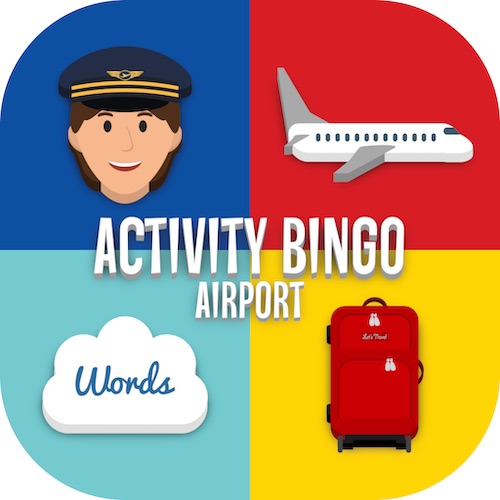 2019 is here and we have released a brand-new ItsMadeCreatively mobile app! In 2016, we partnered with i360Studios, a clever team who develops creative and innovative mobile apps, to bring Activity Bingo Sports, Activity Bingo Field Trip, and Activity Bingo Christmas and Activity Bingo Travel to the world of mobile games and are thrilled to announce our 5th app, Activity Bingo Airport! Featuring the Bingo cards we designed, this one-of-a-kind game is easy-to-play and entertaining for players of all ages. Whether you're stuck at the airport with a flight delay or waiting for someone's plane to land, be sure to bring your favorite mobile device with this app on it! You'll be able to play Airport Words Bingo, Sights at the Airport Bingo, People at the Airport Bingo and Suitcase Bingo in this newest addition to ItsMadeCreatively's app collection. We're already hard at work, creating the next mobile app for you to enjoy!
Now, let's give you a glimpse into what makes this app so special . . .
Each Activity Bingo app features four different card themes with hundreds of cards packed with color and detail. On an iPhone®, you can only play one card at a time but on an iPad®, you can choose to play two cards side-by-side. This enables you to compete with a friend or simply play two cards at once! There are four unique styles of gameplay which provide endless hours of entertainment. Read more about it here!

Download it today!

More themed variations of Activity Bingo apps are on the way so stay tuned!